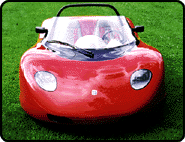 Sportech
This original designed sports car has appeared in more than a dozen magazines, two books and two calendars. The prototype has been test driven by Jackie Stewart at the Ford Motor Company Proving Grounds in Dearborn Michigan. Powered by Suzuki motorcycle engines ranging from 1107cc to 1325cc, they propel the Sportech from 0 to 60mph in 4 seconds. Cornering is superb pulling 1.1 g's on street tires. The tubular steel chassis is extremely stiff allowing the suspension to isolate the road from the driver without losing the "feel" in the steering wheel.
The last of six to be built is available with a GSXR 1107 with a turbocharger making 250hp. This car is 100lbs lighter (1100) and should run 11 second quarter mile times. Not for the faint of heart! The carbon fiber/Kevlar body is Viper Red with a tan leather interior.
This vehicle has been sold. Selected original magazine articles are available for $20. Complete listing available on request.
For more information please contact Dave Piontek at (704) 604-3044